Benefiting members, big and small
As an association with over 270 members of varying sizes with differing needs, one of BMRA's key priorities is to safeguard the interests of all our member companies and, by default, to safeguard the future of the industry.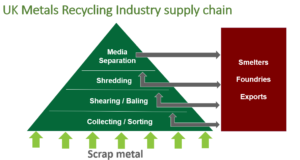 To ensure we maintain a representative picture of the industry, thereby enabling us to set the priorities for the BMRA, we regularly consult with the Board and our Legislative Policy Groups, all of which comprise representatives from member companies of all different sizes.
Listening to the needs of all our members, no matter their size, is important because the metals recycling industry has a unique supply chain. Issues that may, on the face of it, only seem to affect the larger companies in the supply chain will, in fact, ripple throughout the rest of the supply chain, right down to the mobile collectors.
One example of this is the Metal Shredder Residue (MSR) project. If MSR is deemed hazardous, this will impact metals recyclers across the industry if an alternative means of disposal is required. The BMRA also works alongside our members to issue important information and guidance. One key issue that is important throughout the whole supply chain is health and safety. We are currently updating our Health and Safety Manual, which is due to be published in 2020.
A great example of our partnership with members working, is the recent Quality and Safety Guidance for Frag Feed, counter-signed by a host of large shredder operators. The aim of this document is to ensure that all members, and in turn the industry at large, work together to maintain safety standards while ensuring the UK's reputation as a producer and exporter of high quality scrap around the world.
Many issues, however, often come about as a consequence of decisions made at an international level and are therefore beyond the control of the BMRA, our members and the wider industry. The key here is to help members up and down the supply chain understand the potential ramifications of any such decision. For example, the Chinese government's strict import rules for waste, including scrap metal, had the potential to affect the entire supply chain as exporters had to seek out new markets for their scrap.
With China looking to further restrict, if not stop, all imports of solid waste entirely by 2020 and other countries imposing similar demands that look likely to become ever stricter, exporters are having to either meet stricter requirements or navigate new markets, both changes which could impact the UK scrap supply chain.
BMRA works closely with its partners to ensure all members are updated when changes to these markets are issued. We will continue to keep this type of work at the forefront of what we do to safeguard the industry, while continuing to lobby the government on ongoing issues that affect members such as tackling illegal and cashpaying operators and wider metal crime.
Don't forget there is more to the BMRA. We are here to help all members with advice on almost every part of their business, including: technical, regulatory and environmental issues; policy matters, including the Scrap Metals Dealers Act 2013 and Air Weapons and Licensing
(Scotland) Act 2015; up-to-date information on Brexit; Fire Preventions Plans; and much more.
We also have an extensive training offering, with a new bespoke booking portal and the soon-to-be launched eELV and hyrid ELV training courses.
If you have specific issues in your local area, do get in touch. As part of membership, members also have access to a free employment and business telephone helpline as well as in-depth HRWorking across a
unique supply chain support (useful with the 'Good Work Plan' dubbed the biggest overhaul to employment law in 20 years due in April 2020),not to mention discounts on insurance and products such as Sage and PPE and more.
Learn more about the BMRA - Why join?