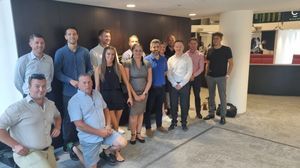 Being one of the few financial exchanges that still offers the open-outcry form of trading rather than electronic the London Metal Exchange (LME) certainly didn't disappoint.
The tour was given by a the very welcoming Alberto who started the tour by giving us a presentation that showcased the history of LME. We were told of stories of how copper was the first base metal to be traded, and how the 3-month trading contract was originally based on the
shipping times of copper mined in Chile to reach the River Thames.
We were also briefed on what the London Metal Exchange as an entity had recently been doing to ensure those who wish to trade on the exchange were adhering to renowned ethical and environmental standards. These included fair pay and netzero targets.
The presentation finished just in time for us to be escorted to the viewing gallery to watch the action unfold. With screens, numbers and people everywhere, there were many a perplexed face. And when 4 minutes and 20 seconds of silence erupted into 40 seconds of shouting,
or should I say trading, with hand actions flying around we were even more confused. But as the questions were asked, and we
watched the zinc, aluminium and scrap steel contracts traded, we all begun to understand a little better.
Whilst we may not yet fully understand the LME, the tour was thoroughly enjoyable and equally as informative.There is no doubt a trip to the LME comes with a strong recommendation from those in the YBMR!
Cameron Leitch, Policy and Public Affairs Executive, British Metals Recycling Association