Latest innovations in robotics, component manufacturing and machining technology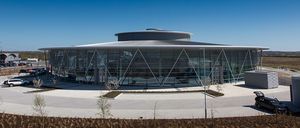 In February, 12 of the Young British Metals Recyclers (YBMR) group visited the University of Sheffield's Advanced Manufacturing Research Centre Factory 2050. Located between Sheffield and Rotherham, Factory 2050 offers visitors the chance to see the latest innovations in robotics, component manufacturing and machining technology.
Notable robots and machines on show included a robotic dog-like creature capable of trotting and dancing, as well as a machine that was able to bartend, albeit rather slowly. While we was not quite sure what the origins of the dog-like creature were, we did learn that many of the robots and machines currently being tested were to replace mundane tasks humans 'do not want to do'. Or, in the case of the bartending machine, scientists were trailing a machine to see if automating a human-task could potentially be more efficient.
A more interesting design for our industry – which was not live – was a dismantling machine. Thankfully however, there was a recording of the machine in action right next to the machine itself. The video showed the machine dismantling and sorting an alternator, using various tools it would pick up and put down, into its various components within 14 minutes.
With the 'circular economy' high on the political and social agenda, it shouldn't be surprising, but for a research centre that focuses almost exclusively on producing robots and machines that replace products or tasks, it was pleasing to see a design focused on end-of-life.
What this may mean for the future is rather uncertain, but with a focus to be more resource efficient, we can expect to see similar innovations popping up.
Find out more about the YBMR.