Rates due to increase, act now!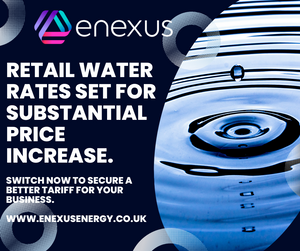 BMRA's energy partner, Enexus, can assist you with your business water supply.
Recent deregulation within the industry means that businesses in the UK now have the flexibility to choose between water suppliers in the same way they can for gas and electricity.

Enexus has advised us that water retail costs are set to substantially increase from next month.

The exact amount will depend on your region, however business water rates are expected to increase by an average of 14.4% from April 2023 and time is running out to secure a better tariff for your business.

Enexus can help you choose the right water supplier to meet your commercial and environmental objectives. Enexus can manage the whole tendering process from start to finish, to find you a business water supplier that delivers the right expertise and capacity for your requirements, along with the very best tariffs and savings.

It has strong relationships with suppliers from all across the market and assist numerous companies on a daily basis to switch and negotiate a cheaper tariffs.

Find out more about Enexus's water offering here (login required).
Contact Enexus today to find out more about our business water consultancy services and book your free consultation
Phone: 01253 966 960
Email: [email protected]