Available from Olympus

Overview of the equipment for sale: Handheld VANTA C Series XRF Analyser for Alloys incl Light Elements;
Alloy, GeoChem and Precious Metals calibrations installed.
Aiming Camera, Sample Camera, Small Spot Collimator
MILSTD-810G 1.2m DROP TESTED, IP55 Rated, Detector Shutter, WiFi & BT capable.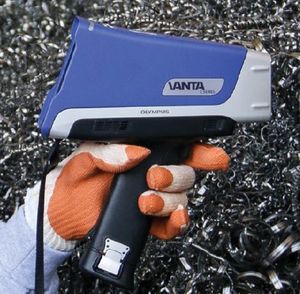 Ex-Demonstration 4 years old refurbed to OEM specification – 6 months warranty.
Vanta C Series Handheld XRF Analyzer including rhodium (Rh) anode 40 kV X-ray tube, SDD (Silicon Drift Detector), In-line camera for aiming, 3mm X-ray spot collimation and 5 megapixel sample camera for documenting tests.
Primary Method: Calibration Alloy Plus METHOD-A3-VCR. Analysis for metal samples measuring Mg, Al, Si, P, S, Ti, V, Cr, Mn, Fe, Co Ni, Cu, Zn, W, Hf, Ta, Re, Pb, Bi, Zr, Nb, Mo, Pd, Ag, Cd, Sn, Sb. Grade comparison on the base of international or customizable grade libraries (ASTM-AISI, EN, JIS, GB a.o. available).
Accessories include Docking Station with power supply and UK power cord, sealed rugged carrying case, 2 Li-Ion batteries, USB cable, USB storage with PC Software, wrist strap.
Visit https://www.olympus-ims.com/en/vanta-for-scrap-recycling/ for more info.
Price: £16,500 ex VAT (>30% discount from list price)
Contact: James Parker – Sales & Application Specialist ANI – 07500 701676 or [email protected]
Olympus Industrial Inside Sales – 01702 452555 or [email protected]