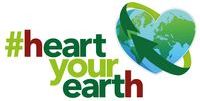 Do all you can to reduce, reuse, recycle and get as much material back into the circular economy, which will reduce emissions, reduce waste into landfill and restore the earth's precious landscape.
Send us your photos and videos of you loving your earth, showing and telling us what you are doing to preserve the natural resources of our planet or reduce your carbon footprint.
Reach out to us on social media:
Using the hashtags #globalrecyclingday #HeartyoureartH

Download your #hearttheearth selfie sheets.
Or email: [email protected]
Click on the links to the right to learn more about metal recycling.