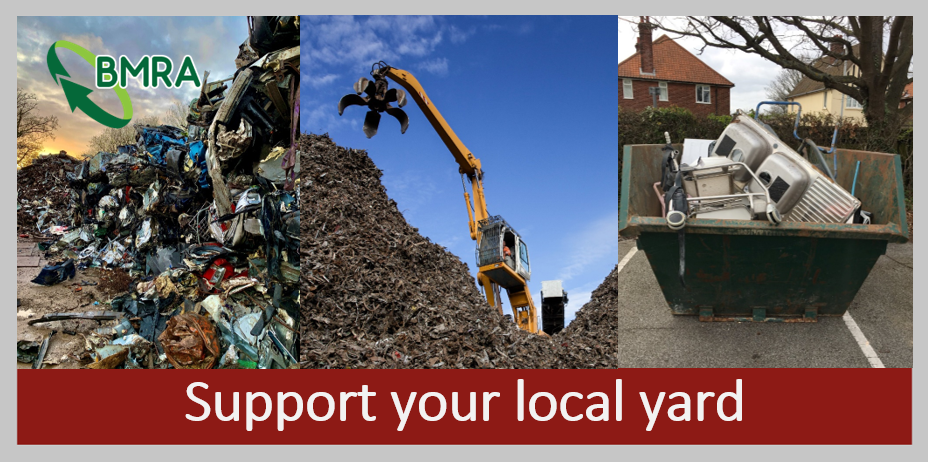 Metal is 100% recyclable and has an instant value. Why not check your shed, garage, and even your kitchen for metals that are no longer being used, take it to a local scrap yard and be paid for it!
It's simple, use the link below to find a BMRA yard in your area, give them a call to check they can take your metal, and, bingo, you will have money available for yourself or to donate to your local school, community project or charity.
Check out the yard's website or social media for opening times. During holiday times (New Year, Easter, Summer, Christmas, bank holidays) some yards will close.
Remember, it's illegal to be paid cash for your scrap metal.
How to sell your scrap
It is illegal to be paid cash for your scrap metal, including from your home address. You need to provide identification and the dealer requires a Scrap Metal Dealers Licence.
You can present either:
a photocard driving licence (which shows your address) or;
a current passport and supporting document, consisting of one of the following;

a utility bill (not a mobile phone bill)
bank or building society statement
debit or credit card statement
a council tax letter.
While you should not be paid cash, you can be paid by several instant methods including bank transfer, by cheque or pre-paid card.
If you are offered cash you can report it anonymously.
What can I recycle?
The below is a list of items that can be recycled. Some items listed below are waste electrical and electronic equipment (WEEE). It is worth checking with the yard before to see what material they take:
Cars
Bikes
Old TV aerials
Lawn mowers
Garden railings/metal fence
Metal cooking utensils, cutlery, pots and pans
Washing machines
Fridge/Freezer
Radios
Metal light fittings
Door handles and hinges
Ovens
Sinks
Toasters
Microwaves
Taps
Boilers
Water tanks
Copper water pipes
Metal baths
Radiatiors/towel heaters
Irons and ironing boards
Clothes racks
Televisions
Tablets and mobile/smart phones
Games consoles
and more...