Available from Doyle Machinery Ltd

Overview of the equipment for sale: VZ 950 TITAN METAL which is used for shredding cars, scrap, light metal, and tyres. The newly designed machine with laterally and height-adjustable permanent magnet is now fitted as standard for effective FE separation above the discharge belt.
Thanks to the large-volume shredding unit, the revolutionary shaft system with quick-change cassette and a new innovative control system with predefined shredding profiles, these materials have to give in. ARJES promises potential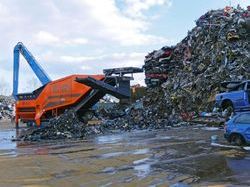 customers maximum mobility on site thanks to the standard track system with a HD static version available.
Therefore, ARJES continues to adhere to its strategy of "building the ultimate shredders with the best price-performance ratio".
Price: POA
Contact: Michael O'Donoghue, tel +44 333 043 3322, email [email protected]