Tuesday 25 June 2019
This year's Golf Day and Summer Dinner will take place at The Mere Golf Resort and Spa, Chester Road, Knutsford, Cheshire, WA16 6LJ on Tuesday 25 June.
As with previous years we will be holding the Annual General Meeting on the same day. A separate bulletin will be sent inviting you to attend.
The golf round will comprise a shotgun start which sees teams of four starting at the same time but from different holes around the course. Get your competition head on for nearest the pin and the longest drive!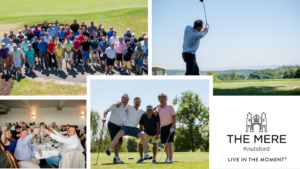 The day will end with a dinner and entertainment in the evening, along with the prizegiving, which will be a great chance for you to network with fellow members.
Located in the Cheshire countryside, the Mere boasts a championship golf course and an award-winning spa and health club. Non-golfers could book a treatment in the Spa or try out the health club or sit and relax and take in the beautiful view. There is also a putting green and driving range.

The cost for the whole day of golf is £600 (plus VAT) per team of four, including bacon rolls in the morning and the evening dinner. The cost to attend just the dinner is £75 (plus VAT). If you don't have a team but would like to play, contact us about joining with another team. Booking details have been sent to members via email and forms are available via the bulletins section on the members area of the website.

Why not sponsor the event?
There are lots of opportunities to sponsor the event. Email admin@recyclemetals.org for details.
We also welcome prizes for the President's raffle. All donations go to the President's nominated charity. The Golf Day charity this year is Dreamdrops, which fundraises for the paediatric Holly Ward and Special Care Baby Unit at Hinchingbrooke Hospital in Huntingdon as well as supporting community children's services.
Thank you to our sponsors:
ECY Haulmark, Danieli Centro Recycling, Sackers, Wye Valley Metals, WN Thomas, Blue Group, CF Booth, APM Metals, Recycled Products Ltd., ELG Haniel, Sims Metal Management, William Waugh (Edinburgh) Ltd., FJ Church, EH Hassell & Sons, Metal Recycling Event, The Mere Resort