BMRA's new CEO shares his thoughts on his first 100 days
James Kelly joined the BMRA from the British Security Industry Association where he served as Chief Executive for nine years. Prior to this, James was the Managing Director of the Direct Marketing Association. Appointed in February, here he discusses his first 100 days and his priorities. You can read the press release about his appointment here.
How did you get where you are?
I am an ambassador/promotor by background and describe myself as being in the representation business. I started out intending to be a lawyer but switched to industry working in operations and planning for companies like Royal Mail. I then moved into marketing, business development and public affairs working with The Law Society and the Institution of Mechanical Engineers, supporting key companies such as Rolls Royce. From there, I moved into the drinks industry for five years, and on to the Direct Marketing Association where I had to defend, and champion, the work done by members, which was not best-loved by all consumers.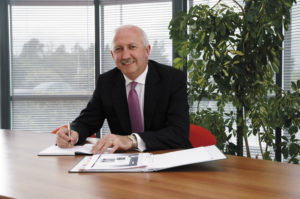 Finally, I moved to the private security industry to take up the role of CEO of the British Security Industry Association. It is a very diverse sector ranging from electronics to guarding activities, encompassing anything upwards of 16 different specialisms such as cash in transit, door supervisors, close protection officers, CCTV, alarms, and so on. Like Direct Marketing, until regulation came in, the industry had a very difficult reputation, which is why I support responsible, but proportionate regulation. One of the biggest battles I undertook there was retaining regulation when the Coalition came into power. The ideology of the Conservatives in particular is 'reduced regulation, more
freedom for business'. We didn't want this because security can be a great front for criminality, so I led a successful campaign to retain regulation to keep the professionalism of the industry. I believe that my experience to date means that I have transferable skills.
What attracted you to the role of CEO of the BMRA?
I think I realised very quickly that it was an understated industry in terms of the benefits to society. It is rare that you get an industry that can boast both environmental and economic benefits, it's win/win. I saw very quickly that metals recycling absolutely does have those. Whilst you can boast of its positive environmental impact, usually that comes at a cost. Government and other stakeholders don't want to listen because they don't want to pay for it. With such a focus on recycling, I think it is a great time to
get involved in this sector.
What are your plans for your first 100 days?
It will be all about prioritising. My top priority will be reaching out to the members, making sure I understand what they want from the BMRA, how they think I can help and add value. I want to ensure we robustly promote what we do for the membership, that we continue to be demanding of stakeholders like Government because I think they owe us as much as we owe them. Then it will be managing the business in terms of finance, prioritising activities according to the budget, which is a key part of the job. I see the role as ambassadorial; championing the industry while driving opportunities for growth.
What do you think the biggest challenge will be?
Trying to do everything that we want to do! Having met key members of the team, I can see that there's a whole raft of ideas and a real enthusiasm and, if money was no object, we could probably have a resource that is three or four times the size to deliver everything we want for members. We need to decide what is going to deliver the most value in the quickest time so we can continue to retain current members and attract new ones.
What do you do outside work?
I live in the countryside and love that way of life. I have four children and we are all big animal lovers; we even keep our own chickens, ducks and geese. My wife breeds and shows boxers so I am often a chauffeur at the weekend. When we are not driving to shows, we like walking and I like to get out on my bike too.