The Board of the BMRA is pleased to announce the appointment of James Kelly as its new Chief Executive.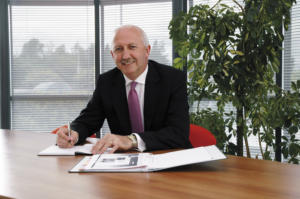 James joins the BMRA from the British Security Industry Association where he served as Chief Executive for nine years. Prior to this, James was the Managing Director of the Direct Marketing Association.
Commenting on the appointment, Susie Burrage, President of the BMRA said: "We are delighted that James has agreed to take on the role of leading the Association and helping the team deliver our key messages. As an industry, we have a great story to tell and I am pleased that he is eager to help us highlight our role in safeguarding the environment for future generations.
Speaking about his first 100 days, James says it will be all about prioritising. "My top priority will be reaching out to the members, making sure I understand what they want from the BMRA, how they think I can help and add value. I want to ensure we robustly promote what we do for the membership, that we continue to be demanding of stakeholders like Government because I think they owe us as much as we owe them.
"I see the role as ambassadorial; championing the industry while driving opportunities for growth. I look forward to working with the team to deliver satisfaction for members while promoting the industry for what it is: an innovative, technologically savvy and environmentally sound sector that sits firmly at the heart of a true circular economy. I am proud to be joining a sector that leads the way when it comes to lessening the impact of consumerism on the environment."
For further information, please contact:
Antonia Grey
01480 455249
Notes to editors
1. The British Metals Recycling Association (BMRA) represents the £7 billion UK metals recycling industry.
2. The BMRA's 260+ members include large and small businesses in the ferrous and non-ferrous sectors including shredder operators, merchants and traders.
3. Metals recycling is a globally competitive and environmentally important industry. It supplies secondary raw material, which preserves natural resources, saves energy and reduces CO2 emissions by up to 80 per cent in metals production.
4. The UK metal recycling industry is so efficient at recovering metal from end-of-life products that more is recovered than can be consumed domestically. As a result, around over 80 per cent of all 'waste' metal is now destined for export. This means we are competing against suppliers from the USA and Japan who are not required to characterise recycled metal as waste.
5. Recycling of metals is also the major contributor to the UK's achievement of targets under EU Directives such as end-of-life vehicles and packaging.
6. In 2017, the UK exported over 9 million tonnes of recovered ferrous (iron and steel) metal and approximately 800 thousand tonnes of non-ferrous metal (such as aluminium and copper).