Help BMRA promote your business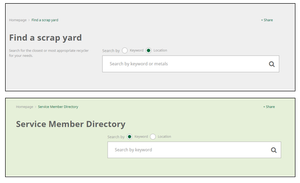 Are you aware that the BMRA promotes your business to the public via its online recycler/service member directory?
Every year the BMRA gets 1,000s of calls and website visitors from members of the public trying to find a local metal recycler. We refer them to the online directory.
Are your details up to date?

Linked to the BMRA member database, the directory lists your company name, address and contact details, and it can list information about your company as well as the material you can take in. It also enables people to search by location.

These are also the address details we use to send out key BMRA information and member communications, such as Scrapbook and the Health and Safety posters.
Ensure your details are up-to-date by visiting the following:
Ordinary members/metal recyclers
Service members

Here you will see what information BMRA has about your company, if it is up-to-date, or if anything is missing.

To update your details, email [email protected].