Launch of the Sany SMH48WG5 range of material handlers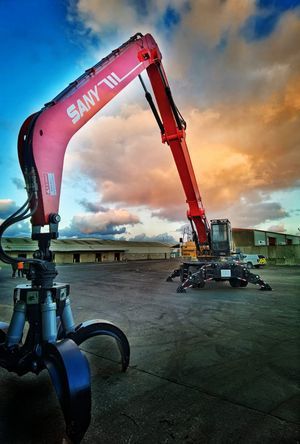 BMRA service member, Cooper Specialised Handling, an independent port equipment supplier has announced its entry into the mainstream material handler market with the launch of the Sany SMH48WG5 range of material handlers.
Sany, who already supply Cooper SH with a range of mobile port equipment including reachstackers and empty handlers, are one of the leading construction companies in the world. Sany are the world's largest excavator manufacturer producing more than 100,000 excavators annually, which represents 1 in every 6 excavators sold in the world. Sany moved last year from 7th to 5th position in the famed yellow table of global construction machinery manufacturers.
The new material handler entry model consists of a nominal 48 tonne machine and is available in wheeled or tracked versions with a 30-tonne model expected to follow in 2021. The SMH48WG5 is powered by a Cummins 8.9 litre Euro V engine developing [email protected] and importantly, 1526Nm of torque @ 1400rpm. Drive is through a Dana 360 hydrostatic transmission which powers through prop-shafts to Dana front and rear axles. All hydraulic pumps are sourced from Kawasaki.
A key feature of the new range as it enters this highly competitive market is the physical size with smaller wheelbase than other machines in the same capacity range. This size does not impact on its capacity and indeed, the capacity is greater than its peers. Importantly, the new Sany machine provides, as standard, a variable steering platform allowing the operator to select from either front, wheel steering, rear wheel steering or all 4 wheels orientating in opposite directions for maximum manoeuvrability. Crab, or diagonal, steer is available for times of extreme need and the machine is configured with 2-speed drive for precise movement. There is no steering wheel with all steering modes preselected by push button and joystick steer control as standard.
Chris Barnes, Sales Director of Cooper Specialised Handling remarked "We are delighted to launch this new range which opens up a whole new market involved in scrap, recycling and aggregate industries. These machines have significant heritage based on huge experience in the global excavator market with the backing of huge manufacturing facilities and using mainline and globally respected key components. The fact that it is a large capacity unit, with a small wheelbase is further enhanced with a choice of steering modes will offer arguably the greatest size and manoeuvrability package in its class on the market today".
Chris continued "This addition to our range is fully complementary and an extension to our range of Mantsinen equipment that start at 60-tonnes all the way through to 400 tonnes plus. However, we will continue to differentiate the Mantsinen machines as hydraulic cranes rather than mainstream material handlers.
The new range is available from February 2021 and Coopers advise the business model will be one of ordering stock machines thus facilitating shorter delivery times than the industry standard.