Buchan Alpha platform final stage decom in Shetland
John Lawrie Decom, part of BMRA member John Lawrie Metals Ltd, the metal recycling experts, has completed the final stages of the Buchan Alpha decommissioning project for Ocean Kinetics Ltd.
Following extensive engineering planning and analysis in order to determine the safest and most efficient methodology, John Lawrie's experienced decommissioning team worked to downsize the four pontoon structures and associated steelwork, processing 2,841 tonnes of steel for recycling in just 37 days and 1,628 manhours.
Working with fluidity and agility, the team operated safely and efficiently to complete the work scope with no lost time or environmental incidents, achieving a 100% recycling rate in the process.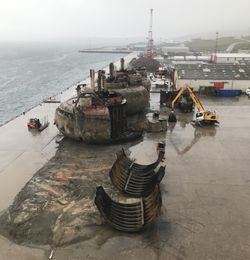 The Buchan Alpha platform was originally delivered to Shetland in August 2017 and the topsides downsized at Dales Voe. The final stage of the project involved the Buchan Alpha pontoons being moved from their storage location onto the quayside at Greenhead Base by Ocean Kinetics, who then brought in the services of John Lawrie to complete the final phase of the three-year project.
Dave Weston, MD, commented: "We are delighted to have been part of the final stages of this project, with our local facilities in Shetland being utilised to process all the waste metal. The team have done a superb job; this is another example of how having an experienced specialist metal downsizing crew working together with a clear understanding of what is to be achieved can ensure minimal disruption and maximum benefit for all parties."
With an aim of zero to landfill, John Lawrie Metals is the largest metal recycler in the North-East of Scotland, handling around 200,000 tonnes of metal annually.