12 cars each year will be supplied to Preston's College
Students at Preston's College are learning how to repair cars using vehicles supplied by BMRA member, Recycling Lives.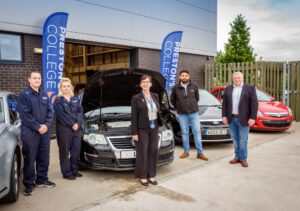 Recycling Lives handles up to 11,000 vehicles each month. The company's 15-acre Recycling Park in Preston is an Authorised Treatment Facility equipped for depolluting vehicles and extracting recyclable materials including ferrous and non-ferrous metals through a complex process of shredding, washing and sorting. Recycling Lives also receives other vehicles selected for resale and it is from this stock that up to 12 cars each year will be supplied to Preston's College.
Courses that benefit cover 14-16 year-olds studying for the ABC School link award, 16-19 year-old learners on light vehicle maintenance and repair courses, apprentices of various levels, and adult night school learners all of whom are studying for various awarding organisations including the City and Guilds and the Institute of the Motor Industry.
Mark Atkinson, Curriculum Leader for Automotive at Preston's College explains: "The cars are used for a wide range of tasks, from remove and replace mechanical activities to advanced diagnostic fault finding.
"When the vehicles become worn due to being dismantled and rebuilt so many times, the engines are removed for use as static stand engines and Recycling Lives will pick these scrap vehicles up and replace them with fresh ones. This ensures we always have high standard vehicles for our learners to work on – which is absolutely vital to give them hands-on practical experience.
"Prior to this arrangement we relied on donations from local garages, but that meant that most of our vehicles were outdated MOT failures and in poor condition. Recycling Lives has helped us offer a far better learning experience."
Louise Doswell, Principal and Chief Executive of Preston's College adds: "We are really grateful to Recycling Lives for donating these cars. Working with local companies such as Recycling Lives is an important part of the College's role in the community and provides opportunities for our learners to gain work experience and improves their employment prospects."
Chief Executive Officer Gerry Marshall explains: "Collaborating with Preston's College is a perfect fit with our other charity activity, enabling young people to acquire vital skills and progress their careers. It reflects our dedication to recycling and re-use of motor vehicles and their components in the circular economy model we are developing. A new project will also enable batteries from electric vehicles to be reconfigured for storage of renewable energy generated at our Recycling Park in a strategic expansion of our activities."