Attachment specifically manufactured for purpose
BMRA member S Norton & Co Ltd has purchased the VTN RP2000 rail cutter from BMRA service member ECY Haulmark.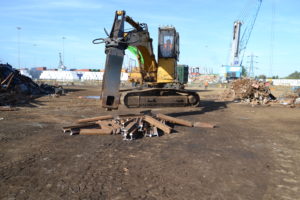 In recent years, S. Norton has been processing and recycling end-of-life rail track . Due to the structure and strength of the rail, it is difficult to cut productively and profitably with a standard scrap shear. ECY Haulmark supplied an attachment specifically manufactured for rail cutting purposes. With the addition of the RP2000 rail cutter the rail is easily processed into various lengths.
The VTN RP2000 rail cutting attachment is fitted to a CAT330L tracked machine. Italian manufacturing company VTN Europe designed the RP series of rail cutters.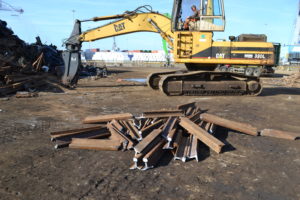 The RP2000 model rail cutter weighs in at 2.7 tonnes and is suitable for 21-35 tonne machines, ideal for the processing of standard UK rail spec UIC 60. A large hydraulic cylinder provides a 139t force and together with the jaw's specific mechanism, and with the cylinder set in an overturned position to ensure maximum protection from accidental damages.
The RP2000 hydraulic rail cutter is equipped with special cutting blades, which are four times reversible and interchangeable to ensure high durability before replacement is required. The structure of the body, made entirely of Hardox, and heat treated to improve the mechanical strength, reliability and durability of the attachment.