Four year deal covers scrap metal and cable in London and South East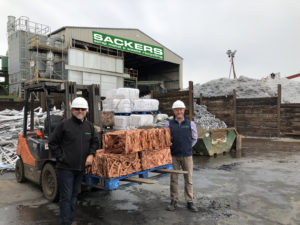 BMRA member Sackers, has secured a contract with UK Power Networks, Britain's biggest electricity distributor, and the Manufacturing and Engineering sector. The deal covers the removal and disposal of scrap metal and cable for recycling in London and all site in the South East.
The initial duration of the contract will be four years, with a four year extension option.This follows Sackers recent investment in a cable granulator, enabling them to be the final processor of cable. The team delivering the project has over 30 years' experience in the utility and energy sector and is therefore able to deliver to UK Power Networks' diverse and rigorous requirements.
Joint MD David Dodds said: "We are delighted to be able to deliver this service to UK Power Networks which we've started to roll out already. Our cable granulator has allowed us to offer good value and the ability to process on site. We have a three strong compliance team which is at the forefront of all our work which ensures we can meet all their licensing and compliance needs."
David Collis, technical and service development manager at UK Power Networks, said: "UK Power Networks is very pleased to work with Sackers due to their excellent service and the environmental focus of their recycling processes."