Jack Gomarsall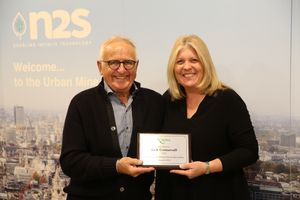 BMRA is delighted to announce that Jack Gomarsall of n2s (Network to Supplies Ltd) is the next recipient of a Service to British Metals Recycling award.
The award was presented on Wednesday 12th October by BMRA President, Susie Burrage who said: "I am delighted to present the Service to British Metals Recycling award to Jack. Not only for his achievements in telecoms recycling but for his 10-year tenure on the BMRA Board. From 2007 to 2017 Jack took time out from his growing his business to attend meetings in Brampton and London for the betterment of the whole industry. He was an active member of the BMRA board when I first joined it in March 2014 and made me warmly welcome. I particularly loved hearing his recollections of his early days in the industry – he didn't have an easy ride!"
Jack Gomarsall is a former long-serving BMRA Board member and has devoted 56 years to recovering and sustainably recycling copper from telecoms cables and telephone exchange equipment.
Leaving school without formal qualifications he joined BICC Group in 1966, working in the scrap metal yard dismantling telecom cables to recover the copper inside. Over the next 12 years he worked his way up to hold various sales and management positions at BICC and also operated as a metals currency trader. In 1978 he struck out on his own, continuing to retrieve and recycle copper from telecom cables while expanding services to include the recovery of metals from BT exchange equipment.
In 2002 at the age of 57, after what Jack refers to as 'a weekend's retirement', he founded Suffolk-based N2S, broadening the portfolio of services he previously provided to also encompass the rapidly increasing volumes of telephony, mobile device, data centre and networking equipment being consumed and discarded by government, private and public sector organisations.
In 2019, while still serving as N2S Managing Director, Jack was inspired to investigate how metals contained on printed circuit boards could be more sustainably recovered: By using bacteria as an alternative to the traditional approaches of exporting them thousands of miles to Third World countries and using toxic acids and incineration.
Jack's Eureka moment subsequently led to BT commencing a trial of the Bioleaching process to recover gold from decommissioned Exchange equipment. In 2021 BT extended the trial to include other metals recovery using the process. As a result, N2S is now scaling up its Bioleaching capacity through a sister company – Bioscope - and with this creating many new job opportunities in the Sustainability sector.
Having semi-retired in 2021, Jack's legacy and contribution to the Green Economy is assured: his pioneering Bioleaching discovery will bring significant environmental benefits by saving potentially millions of tonnes of carbon, and economic benefits to UK PLC by ensuring precious metals and rare earth materials in finite supply remain within UK borders, rather than losing them overseas through the traditional practice of exporting.
From a social perspective, this development also means millions of PCBs otherwise consigned to landfill or subjected to toxic extraction methods will safeguard communities in proximity to such facilities from toxic gases.
Jacks' son, Andrew, the former England rugby international, now heads N2S having joined the company 10 years ago.