Slips, Trips and Falls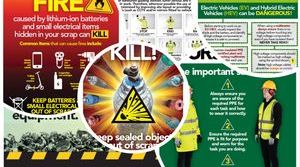 As part of its Health and Safety offering, BMRA produces informational posters that are sent to every metal recycler (ordinary) member site. The subject for each poster is identified as being key hazards within a yard.

The next poster's subject will be Slips, Trips and Falls and is available for any BMRA member to sponsor.

Your logo will appear in the bottom left-hand side of the posters with full acknowledgement in BMRA communications.

The cost to exclusively sponsor a poster is £1,950 +VAT.

If you are interested in sponsoring the poster, please contact Kate via email kate[email protected].

Members can also have access to the Association's Health and Safety Manual (login required).

So far, the Health and Safety posters have included:
Sealed containers can kill! sponsored by Peter Hoare Insurance Brokers.
Radiation in scrap sponsored by Olympus.
Batteries in scrap sponsored by Bunting Magnetics Europe Ltd.
Safe handling of EVs and HEVs sponsored by CarTakeBack.
Banksman sponsored by Mellor Metals
PPE sponsored by City Metals Recycling
Fires caused by lithium-ion batteries sponsored by Walter Heselwood Ltd
All past posters are available to purchase for £10 + VAT inc postage per poster.