BMRA Golf Day and Summer Dinner - 4 July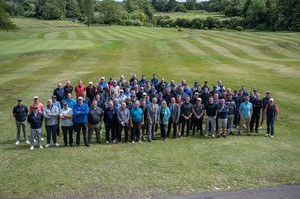 The sun shone over Edinburgh and there was a warm Scottish welcome on Monday 4 July as the BMRA Golf Day and Summer Dinner returned after a two-year COVID enforced break.
A sell-out on the course, 20 teams lined up for a shotgun start on the Championship East course at the Dalmahoy Hotel and Country Club in Kirknewton.
Images from the day are available for members to download here.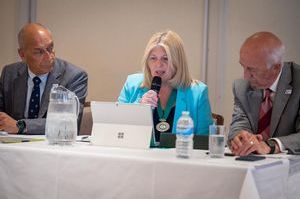 Earlier in the day, the BMRA held its Annual General Meeting, where President Susie Burrage, Vice President Shane Mellor and BMRA CEO, James Kelly presented the previous year's activities.
The BMRA welcomed a new Board member. Harry Seale of Atlas Commodities replaced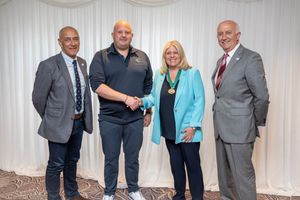 Sue Howell of Wye Valley Metals. Thank you to Sue for her time on the board and work as treasurer on behalf of the Association. You can read an interview with Harry in a future edition of Scrapbook.
Despite the sun, the weather was blustery, and based on the testimony of one player, quite hard work.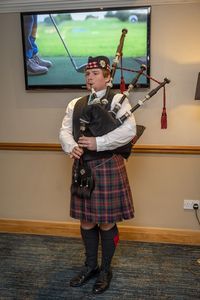 The evening brought the Summer Dinner and prize giving. The guests were piped into dinner by piper, Harvey Kane, and a grace was said by Alan Waugh of William Waugh (Edinburgh) Ltd, ahead of the three-course meal.
Huge congratulations to the team from Tandom Metallurgical on winning the overall team competition,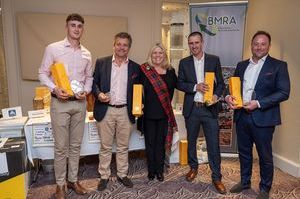 Billy Robertson of Robertson Metal Recycling for winning the individual highest score trophy and to all the other prize winners.
As ever, BMRA members proved a generous bunch, not only with their donations to the raffle, but their donations to enter the raffle. BMRA Vice-President, Shane Mellor, gave out the prizes, ably assisted by two former Association Presidents, Tony Dodds of Sackers and Roger Brewster of Metal Interests. We are thrilled to say we raised £2,000 for the British Heart Foundation.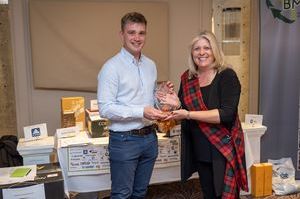 The evening ended with entertainment from Joe Yates Music.
The BMRA benefits greatly from the generosity of members who sponsor and donate in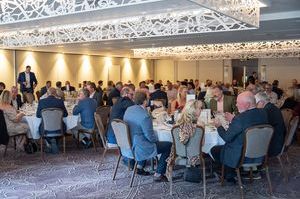 order for us to hold these events and we thank those members whose contributions helped put on a great occasion.
The BMRA would like to thank the following companies for their generous support:

Aston Lark

£100 John Lewis Gift Card

Atlas Commodities

Apple iPad Air

Aurubis

Johnnie Walker Gold Label Reserve 200 year Whisky

Avon Metals

Photographer

CF Booth

Golf Trolley

Dalmahoy Hotel

4 ball on the Champions East Course

Dalmahoy Hotel

Luxury one night bed & breakfast for two

Danieli Centro Recycling

Golfers Caps

Danieli Centro Recycling

A case of Mixed Italian Wines

ELG Metals UK Ltd

£100 Red Letter Day voucher

ELG Metals UK Ltd

4 bottles of wine for runner up 3rd place

ELG Metals UK Ltd

Bottle of Champagne for for Individual Player Highest Score

ELG Metals UK Ltd

Mini bus

Global Metals Network

Champagne for the winning team

Global Metals Network

Champagne for the raffle

Global Metals Network

Champagne for the raffle

International Metals & Cable Recycling

Trophy for Individual Player Highest Score

Ireland Alloys

Bag of golf goodies

John Lawrie Metals Ltd

Golfers Goodie Bags

JMC Recycling Systems Ltd

Apple AirPods

Robertson Metals Recycling

Evening Entertainment - Joe Yates Music

Rogers Metal Management

4 bottles of wine for runner up 2nd place

Rogers Metal Management

Magnum of Minervois La Livinière Cuvée Cantilène, Château Sainte Eulalie 2018

Sackers

£100 M&S Gift Card

Sackers

Bottle of Whisky

SWM and Waste

Champagne for nearest the pin competition winner

Tandom Metallurgical

A case of Champagne

Total Metal Recycling

Champagne for longest drive competition winner

William Waugh

Table wine - a bottle of white and red on every table

William Waugh

Boobie prizes for last place

William Waugh

Piper - Harvey Kane

Wye Valley

Trophies for Winning Team