As part of Global Recycling Day, BMRA has launched an initiative called 'Support your local yard, support your local community', where members team up with local schools to promote metal recycling.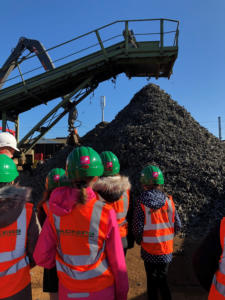 The British Metals Recycling Association (BMRA), the trade association representing metals recycling and scrap yards, has launched a new campaign to encourage members of the public to support their local scrap yard, while raising funds for local schools, community projects and charities.
Unlike other forms of recycled material, metal is 100% recyclable and has an instant value. The BMRA wants people to check their sheds, garages, and even their kitchens for metals that are no longer being used, take it to a local scrap yard and, should they wish, donate the money.
Susie Burrage, President of BMRA and MD of Recycled Products Ltd said: "As part of Global Recycling Day, the BMRA is launching an initiative called 'Support your local yard, support your local community', where our members are teaming up with local schools to promote metal recycling. Not only can schools raise money by collecting all kinds of scrap metal, but the children will learn about recycling metals and its importance to the environment.
"As the fourth generation to run my family business, I am really proud to be supporting an initiative that recognises that businesses like mine can make a difference to our local community and to the environment."
There is no end of everyday items that can be recycled. Old bikes, scooters, greenhouses, pots and pans, if it's made of metal, it can be recycled. Even electronics can be recycled. Known as Waste Electrical and Electronic Equipment (WEEE), these include old phones, tablets, computers, fridges, washing machines, the list is endless. For example, one tonne of mobile phones contains as much gold as 70 tonnes of gold ore. *
James Kelly, CEO, BMRA added: "The metals recycling industry, while being a driver of the circular economy, faces many challenges. Some BMRA members lose business to scrap yards who pay cash for scrap metal, which is illegal. It is also illegal to receive cash for your scrap too. These yards are often not environmentally compliant. We want the public and businesses to support yards like our members who are highly regulated and professional. It's a great way to raise money be it for yourself or for a cause close to your heart."
BMRA members who are supporting the initiative include:
Sackers in Great Blakenham, Ipswich invited primary schools from Suffolk to visit its yard and presented to local schools.
Recycled Products Ltd in Chesham is partnering with Kite Ridge School in High Wycombe to host a 'Marvellous Metals Day'.
Mellor Metals based in Great Ellingham, Norfolk is working with Great Ellingham Community Primary School and Rocklands Community Primary School.
Rogers Metal Management in Nuneham Courtney, Oxfordshire will be supporting local schools and scout groups.
KA Anderson in Ripon weighs scrap in to contribute to the Ripon Community Scrap Fund, which raises money for community projects including the town's Christmas lights and St Wilfrid's Procession.
The public can use the BMRA's recycler directory on its website to find a metals recycler in their area. It is best to phone ahead to check that the material you have can be taken and you will need identification and bank details to be paid for your scrap. Learn more about the regulations when selling scrap metal here.
*UNU, 2009
Images courtesy of Sackers.
If you are a member and you would like to get involved with your local primary school, please contact:
Kate Magill
t. 01480 455249
e. kate@recyclemetals.org
For further information about the BMRA, please contact:
Antonia Grey
t. 01480 455249
m. 07812 037613
e. antonia@recyclemetals.org
Notes to editors:
1. The British Metals Recycling Association (BMRA) represents the £7 billion UK metals recycling industry.
2. The BMRA's 260+ members include large and small businesses in the ferrous and non-ferrous sectors including shredder operators, merchants and traders.
3. The UK metal recycling industry is so efficient at recovering metal from end-of-life products that more is recovered than can be consumed domestically. As a result, over 80 per cent of all 'waste' metal is now destined for export. This means we are competing against suppliers from the USA and Japan who are not required to characterise recycled metal as waste.
4. Recycling of metals is also the major contributor to the UK's achievement of targets under EU Directives such as end-of-life vehicles and packaging.
5. In 2017, the UK exported over 9 million tonnes of recovered ferrous (iron and steel) metal and approximately 800,000 thousand tonnes of non-ferrous metal (such as aluminium and copper).
6. Every tonne of recycled steel saves: 1.5 tonnes of iron ore, 0.5 tonnes of coal, 70% of the energy,
40% of the water, 75% of CO2 emissions, and 0.97 tonnes of CO2.