Second deep sea port at Redcar Bulk Terminal
BMRA member, Ward, has opened its second deep sea export facility at Redcar Bulk Terminal (RBT) near Middlesbrough, as part of its ongoing plans to expand its bulk metal processing and export capabilities.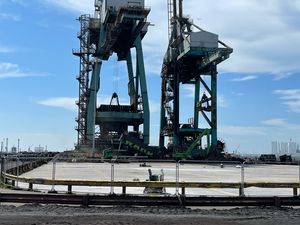 The new port facility in the North East of England will create up to 10 jobs initially and enable the shipping of metal cargo to Turkey, Italy and the rest of the world via the deepest terminal on the east coast of the UK.
Thomas Ward, Commercial Director at Ward, said: "This is another significant development for our ferrous operations. Following the opening of our Immingham dock facility in 2018, this will further expand our capabilities to buy, process and export ferrous metals. It also gives us even better access to new customers further away for buying and selling scrap metal, as well as helping expand the services available to our existing customers in Turkey, India, Pakistan, Bangladesh and China."
"We have made a significant investment in plant, groundworks, new concreting and onsite facilities and it is great to be working with the team at RBT who are supporting us to restart large scale deep sea exports from this area that is renowned for its steelworks."
RBT is in a key position in the regeneration of the adjacent former steelworks site as it facilitates trade to and from the region. Over the past three years many businesses have relocated their trading operations to the area in order to benefit from the logistical advantages RBT can provide, particularly with its deep water and proximity to the North Sea.
Shaun Casey, General Manager for Redcar Bulk Terminal Limited, said: "We're extremely pleased to welcome Ward to RBT. It's been excellent to work closely with the Ward team to get them up and running at their new facility. Redcar Bulk Terminal offers separate rail handling facilities for rapid loading and off-loading of rail freight traffic and enjoys direct access to the UK rail and road networks, so makes an ideal location for Ward to grow sustainably."