Four Liebherr LH40 M supports increase of material and improves processing times
BMRA member Ward, has invested £1.25 million in four new material handlers from BMRA service member, global construction machinery manufacturer, Liebherr.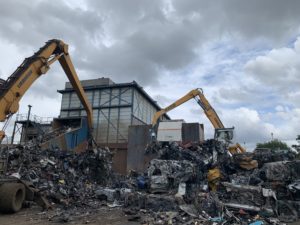 The four brand new Liebherr LH40 M material handling machines will move various materials including metal, wood, plastic and general waste around Ward's sites. One machine is a multi-user with grab, magnet and snipper attachment. This will be utilised for on-site services for projects within the demolition and construction industry.
Donald Ward, Commercial Manager at Ward, said: "Liebherr LH40's are considered best-in-class for performance, safety and handling capacity. Their ERC System (energy recovery system) ensures we get the maximum handling capacity, while lowering the overall fuel consumption by up to 30%, as well as reducing pollutant and noise emissions. We've made the investment to increase the amount of materials we are able to move around sites, improve processing times and to provide the best equipment we can for our staff to make the job as safe and comfortable as it can be."
Lee Palmer, Managing Director of the Earthmoving Division at Liebherr - Great Britain added: "We are immensely proud of our relationship with Ward. They are a very professional, forward thinking and innovative company and the team at Liebherr look forward to being involved in Ward's future developments over the coming years."
Ordered at the end of 2018, Ward has taken delivery of the four material handlers throughout the year and the final one was delivered on site at Ilkeston in September to support the infrastructure improvements and installation of a Metso (another BMRA service member) pre-shredder. Ward has now increased its processing capability and recycles over 500,000 tonnes of ferrous and non-ferrous scrap metal of all grades for sale within the UK and to export overseas, annually.