Purchase expands metal processing capabilities at Immingham site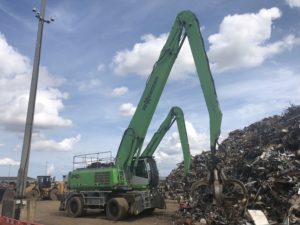 BMRA member Ward has invested another half a million pounds to expand its metal processing capabilities by purchasing a new Sennebogen crane for its Immingham site. Ward worked with BMRA service member E.H Hassell and Sons Ltd, Sennebogen's scrap rehandling machines distributor in the UK.
The new material handling equipment means that Ward can speed up the movement of scrap metal around the site, decrease container loading times and load seafaring vessels up to 20 per cent faster.
Thomas Ward, Commercial Manager at Ward responsible for Immingham said: "We've seen a significant increase in demand for both ferrous and non-ferrous metals since opening our dedicated dock just over 12 months ago. Now that we are able to transport up to 25,000 tonnes of metal at a time via deep sea to Turkey, India, Pakistan and many other countries we expect this to continue. With this new crane we'll be able to move 4.5 tonnes of scrap metal at a time and significantly reduce loading times."
Hassell's Area Sales Manager, Dan Topping, said: "The 840M has 20M reach and is a 53 tonne class machine with a 1.25 cubic metre five tine grab, which has a 50% bigger grab load than the Sennebogen 830M they were relying on before, so ideal for Ward to achieve its objectives. It's great to be working with such a forward thinking company like Ward who value quality and are significantly investing in their materials handling equipment for the benefit of employees and customers alike."
The brand new Sennebogen 840 takes the number of cranes on site to three, with two Sennebogen 830s being used since Ward opened its dedicated dock in April 2018. The investment follows £2million + expansion and upgrade of its vehicle with new, environmentally efficient artic lorries, wheeled tippers, plus wheelie bin and skip lorries in recent months.
Thomas Ward added: "We've chosen the Sennebogen 840 as we believe it is the best crane for the job in terms of speed, materials handling for the type of metals we deal with and value for money. It has 360 degree cameras for all round visibility plus arm cameras for improved safety and it is energy efficient offering us the maximum litres per hour for fuel usage."