Outstanding achievements in international trade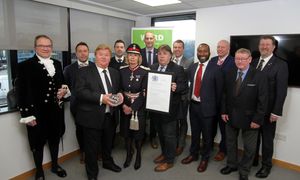 BMRA member, Ward, has officially received its Queen's Award for Enterprise (QAE) for Excellence in International Trade, at a formal presentation at its Griffon Road site in Ilkeston.
During the ceremony, Elizabeth Fothergill CBE, His Majesty's Lord-Lieutenant of Derbyshire, presented a commemorative crystal bowl to directors Michael Ward and David Ward, alongside the rest of the Ward board.
The team also received an official Queen's Award Grant of Appointment which was read out and presented by Tony Walker CBE DL who is the Chair of the Derbyshire QAE Honours Panel. The High Sheriff of Derbyshire, Michael Copestake, was also in attendance for the proceedings.
Elizabeth Fothergill, CBE, said: "Considered the most prestigious business awards in the world, this award is an outstanding achievement and huge congratulations to the Ward team. Recycling is such important work and the family ethic of Ward is impressive."
"We were all immensely impressed with what the team do and achieve at Ward. It was great to see a family company operating in such an important industry passing on successfully to the fourth generation."
Following the presentation, Toby Potter Ward's Business Development Director, provided a tour of the metal processing site and guests enjoyed a celebratory lunch before wrapping up the very special occasion for the Ward family and the wider business.
Michael Ward, Director at Ward, said: "Our business was established by my great grandfather over 80 years ago as a single site scrap metal dealer in Swadlincote. I'm proud to have been in the business for nearly 45 years with my brother David Ward and we have seen some significant investment and huge change in our operations."
"This achievement marks a monumental day for our family and the whole Ward team who we regard as extended family. To have Ward recognised and honoured in such a prestigious way is testament to the hard work of every member of the team.
"Over the three years to March 2019, thanks to significant investment in deep sea dock facilities and ongoing hard work from our dedicated teams, our overseas sales grew by 84%, a growth rate of 36% per annum. We have been able to expand our export capabilities to service customer in key export markets around the world. We have ambitious plans for our future, both at home and further afield, and we hope that this award marks the start of us realising every one of them."
Ward was one of 225 organisations nationally honoured with its prestigious Queen's Award for Enterprise in 2022 earlier this year. Just seven winners were selected from Derbyshire, with four recognised for Excellence in International Trade, Ward specifically for its outstanding short-term growth in overseas sales over the last three years.
During the summer, Michael Ward attended a special Queen's Award reception in Buckingham Palace and met the then Prince of Wales, who was hosting on behalf of the Queen.
The Awards are considered the most prestigious business awards in the country, with the winning businesses able to use the esteemed Queen's Award Emblem for the next five years.