Caroline Marriage returns and thanks BMRA for its support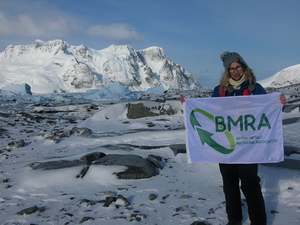 In March, BMRA announced it was supporting Caroline Marriage as a participant 2041 Climateforce Expedition to Antarctica. The expedition was a unique opportunity to learn from experts in the world of climate change and sustainability whilst seeing first-hand the impact of climate change on the landscape and wildlife of Antarctica: the last untouched piece of the globe. Here is her thank you to BMRA for its support.
Thank you very much for your sponsorship of my 2041 Climateforce Expedition to Antarctica. I had an amazing experience learning more about climate change and sustainability practices, sharing stories, ideas and knowledge with the other participants on the expedition and witnessing the landscape and wildlife in Antarctica. There is something incredibly special about sitting in a small boat, listening to whales breathe while they float gently amongst the ice and knowing that the fragile ecosystem that supports them could be irretrievably damaged by the choices we make.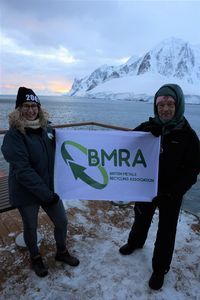 It is hard to describe the scale of the landscape but easy to see how the continent holds 70% of the Earth's water. However, the annual sea ice that surrounds Antarctica in the winter is decreasing in size. This reduces the habitat for krill, the small shrimp like creatures that are at the heart of the Antarctic food chain as well as reducing the reflective surfaces on our planet.
As you may already be aware, while I was there Antarctica was seeing record temperatures with the Concordia base seeing 40o higher than ever before; an ice shelf the size of Rome broke off the continent; and as a team we experienced rain whilst on the Antarctic peninsula. All of these are stark indicators of the threat posed to Antarctica by climate change and as global temperatures rise the effects of the melting Antarctic ice on sea levels will have devastating results on many regions of the world, many of them already struggling.
I was very pleased to be able to carry the flag for the BMRA while I was out there. It is clear that being able to recycle the precious resources that we use on a daily basis is going to play an important part in limiting our impact on the planet. Cutting our global carbon emissions is crucial if we want to avoid catastrophic levels of warming and reducing the energy consumed in manufacturing processes will go a long way to help.
Increasing how much of the remaining energy can be generated from renewable sources as well as the possibility of retrieving the carbon
that is released during these processes is also going to be a vital part of the overall reductions.
I would like to wish you and your members every success in continuing to grow the metal recycling industry here in the UK, and to recognise the part they play in preserving the incredible landscape and creatures of Antarctica.
Yours sincerely,
Caroline Marriage.
You can read more about Caroline's trip on her website: https://csmarriage.wixsite.com/2041