Friday 18 November at the Royal Lancaster Hotel, London.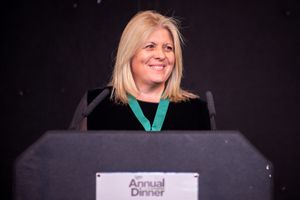 Over 530 people once again attended the ever-popular BMRA Annual Dinner held on Friday 18 November at the Royal Lancaster Hotel, London.
Preceded by a very busy networking event, the BMRA President, Susie Burrage, and BMRA Secretariat, led by CEO James Kelly, were joined by BMRA members and partners as well as esteemed international guests.
The networking event showcased 16 exhibitors which included service members and industry publications, as well as 2022's President's charity, the British Heart Foundation (BHF). The BHF's representative Gary Atyes, put attendees to the test with a challenging 'whack-a-mole' game.
A highlight of the dinner is President Susie Burrage's speech. Within this she discussed what the BMRA's Secretariat had been working on in the preceding 12 months. Highlights included the Association having its highest member numbers for several years, work as the Secretariat for the All-Party Parliamentary Group for Metal, Stone & Heritage crime, the newly launched Fire Prevention and Carbon Action committees, the growing Young British Metals Recyclers initiative, the Metal Recycling Challenge badge, and events attended in 2022 including BIR and EuRIC.
Susie also took the opportunity to remind the room about issues facing the industry such as changes to the EU waste shipment regulations and explain how legislators do not have the industry's knowledge of how important free and fair trade without restrictions is to the success of metals recycling and, ultimately, the circular economy.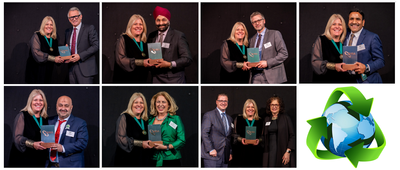 The BMRA was delighted to welcome some of its international partners, many of whom the Association has established long and successful working relationships with. Each fellow Association was recognised with a token of appreciation and had the opportunity to address the room, thanking the BMRA and the UK metals recycling industry for its ongoing commitment to international relations and trade.
Presented by BMRA President, Susie Burrage, the recipients were:
Bureau of International Recycling accepted by Tom Bird
Global Recycling Foundation accepted by Ranjit Baxi
EuRIC accepted by Emmanuel Katrakis
Material Recycling Association of India accepted by Sanjay Mehta
Bureau of Middle East Recycling accepted by Mir Mujtaba Hussain
Federación Española de la Recuperación y el Reciclaje accepted by Alicia Garcia-Franco Zúñiga
Institute of Scrap Recycling Industries, Inc. (ISRI) accepted by Brian Henesey and Robin Wiener
The End of Year photographic competition sponsored by Recycled Products Ltd was presented to the winning photo taken by Julian Foley of John Lawrie Metals.
The esteemed BMRA Lifetime Achievement Award is the key award of the night, recognising an outstanding contribution to the metals recycling industry. The 2022 recipient was Roger Brewster of Metal Interests. Unfortunately, Roger was unable to collect his award and his son Anthony made a speech on his behalf. Roger, a former BSMA president, in 2008 led a project to produce the Bureau of International Recycling (BIR)'s 'Report on the Environmental Benefits of Recycling', a report that is still referred to today. One of his most memorable achievements was for Metal Interests to be awarded the Queen's Award for International Trade in 2007 and 2011. Congratulations to Roger.
The ever-popular raffle and auction followed with many generous prizes donated by BMRA members, along with a silent auction which took place through the evening. Thanks to the generosity of the donations made by guests to win a prize, the BMRA were able to raise over £10,000 for the BMRA's President's Charity, the British Heart Foundation.
Once again, the tables were wowed by the magicians, a popular mainstay of the BMRA Annual Dinner.
BMRA President Susie Burrage added: "The highlight of the BMRA networking calendar, the Annual Dinner, lived up to my expectations again this year, with over 530 members and guests making it a night to remember. I was humbled that my international counterparts took time from their busy schedules overseas to join us. Huge thanks to the BMRA Secretariat for the wonderful event they coordinated."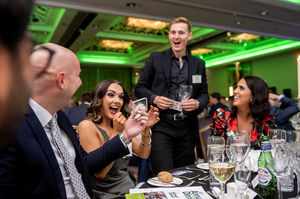 The BMRA would like to thank all of its generous members and supporters who sponsored the event or donated raffle and auction prizes:
Aston Lark, Avon Metals, Blue Group, CarTakeBack, City Metals, Conquest Shipping, Cronimet GB Ltd, Crow Metals, Danieli, EMR, Global Metals Network, International Metals and Cable Recycling Ltd, Impulse Decisions, Jansen Recycling, John Brocklesby Metal Management, Liebherr, Mellor Metals, Norman Global Logistics, One Stop Recycling, Peter Hoare and QBE Insurance, Recycling Lives, S Norton, TOMRA, Zixtel Ltd.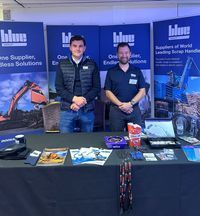 Thanks to those members and partners who attended and exhibited at the BMRA Networking Event:
Blue Group, British Heart Foundation, Bunting Magnetics, Corpay, CarTakeBack, Green Car Depollution, E H Hassell & Sons Ltd, JMC Recycling, Lefort, Letsrecycle, Liebherr, Peter Hoare Insurance Brokers and QBE Insurance, Skip Hire Magazine, SGM Magnetics.