Fourth-generation family business wins big at the Midlands Family Business Awards.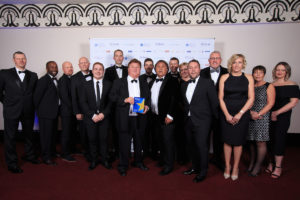 BMRA member Ward was named "Fastest Growing Family Business" and the top accolade, "Family Business of the Year " at the Midlands Family Business Awards. The awards recognise family businesses operating within the Midlands.
Donald Ward, Commercial Manager at Ward said: "We were all so excited to win not one, but two awards. Amazing! To be recognised as a fast-growing family business that has ambitious plans for the future is testament to our hard working team. And, to take home the top prize, Family Business of the Year is truly special for team Ward.
"Ward has also recently been named in the Derby Telegraph's Top 200 companies, ranked 19th in Grant Thornton's Top 200 East Midlands Businesses and 4th in Derbyshire. The last 18 months seen significant investment with the redevelopment of our Chesterfield site, the opening of our dedicated dock to increase our metal export capabilities, renovating new offices at the former Albion Leisure Centre in Ilkeston and most recently launching WARDrobe, a new nationwide textile recycling service."
Congratulations from all at the BMRA.