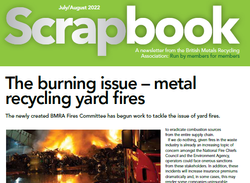 The printed copy of Scrapbook is out for delivery to each member site.
Please find a link to a digital version of the latest edition. Please note, you will require a login.

Download the July/August 2022 issue of Scrapbook here.

Featuring: Fires, Carbon Action Committee, Dealing with the EA, Golf Day and Summer Dinner, Meet the new Board member.

Thank you to Jansen Recycling for supporting this issue.

Published approximately every two months, Scrapbook is distributed to every member site, key industry stakeholders and MPs. It is also available as a PDF on the members' area of the website.
Feature in Scrapbook.
We love hearing from members who provide us with news, opinion pieces and stories. To get involved, email [email protected]

Should you wish to discuss advertising in Scrapbook, please contact [email protected]

If you are not receiving a printed copy and you would like to, let Kate know.

If you experience issues logging on please email [email protected].