First BMRA Annual Dinner in two years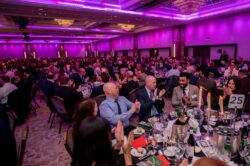 Nearly 600 people made their way to the first BMRA Annual Dinner in two years on Friday 19 November at the Royal Lancaster in London.
From 3pm that afternoon, the BMRA held a members' networking event where BMRA members along with ATF Professional exhibited and met with other BMRA members over drinks.
That evening members and their guests arrived for welcome drinks, where they were entertained by magicians, and were able to get reacquainted with old friends and new at the first BMRA event since March 2020.
James Kelly, CEO of the BMRA, opened proceedings by welcoming guests acknowledging the challenges the industry is facing into 2022.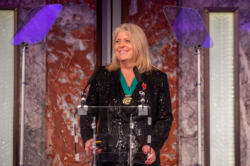 BMRA President and MD of Recycled Product Ltd, Susie Burrage took the stage where she commented that, despite navigating our way out of a pandemic, emerging from Brexit uncertainty and finding itself in the midst of a Regulatory tsunami, the industry had turned out in record numbers. Susie added that although the fact that metal can be indefinitely recycled with all the environmental positives of metal recycling industry, legislators are still not making it easy. She touched on the many challenges faced by the industry, including the potential impact of the withdrawal of the red diesel entitlement, VAT Fraud, metal crime, fires on metal recycling sites, waste classification, and the proposal for a new EU regulation on waste shipments
Nevertheless, she reminded guests that of the many resources available to them and achievements of the past year, such as the Health and safety manual and accompanying posters, the partnership with CIWM for the introduction of metal recycling competence cards, the relaunched training portal, and Global Recycling Day. She thanked the Secretariat for its hard work this year from lobbying on behalf of the members to being on hand to give advice, as well as promoting the industry and the Association.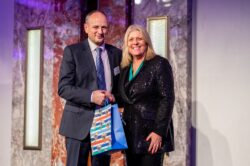 Susie went on to remind the membership that the BMRA is 'Run by Members for Members' took a moment to introduce you to the current Board.
It then became the point in the evening when the awards are given out. Sadly, the inaugural End of Year photographic competition, sponsored by Recycled Products Ltd, couldn't be given in person in 2020 but, this year, the team at John Lawrie Metal could celebrate as it took the crown. Dave Weston, Managing Director at John Lawrie Metals Ltd and BMRA Board member, was on hand to collect the prize on the company's behalf.
One of the highlights of the evening is the awarding of the Lifetime Achievement Award. This is given to someone who has made an outstanding contribution to the industry and is voted for the BMRA board. Mark Priestman of EMR kindly delivered speech about this year's recipient, Bob Garwood, also of EMR.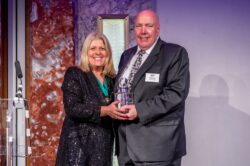 Excerpts from Mark's speech:
"Bob is a veteran of the industry, starting when he was just 16 years old buying scrap in and around London and the home counties. His career progressed fast and spanned almost 50 years during which he has held some very senior positions.
"Unlike today when this year's recipient joined the industry there was no official qualifications, in fact the only training in his 50-year career was a 2-hour course at the Canning Town institute of advanced learning half of which he missed because he was outside doing a deal with the caretaker to buy the institutes iron railings.
"Bob is stepping back from frontline duty at the end of this year, but I know he will miss the camaraderie of Industry colleagues and friendships that have been built over nearly half a century in this wonderful industry that the majority of us in this room have chosen as our profession."
The evening finished with the raffle, this year in aid of the Royal British Legion, the charity selected by BMRA President Susie Burrage. It raised just short of an incredible £7,000. We also have the proceeds from the silent auction to add this to this total, which we will share with members in due course.
The raffle winners along with the companies who donated prizes – thank you!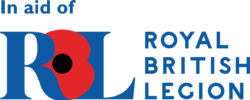 A case of champagne donated by Crow Metals won by Kris Rose of Sackers.
A case of mixed wine donated by Global Metals Network won by Terry Haynes of Conquest Shipping Ltd.
A case of mixed wine donated by Global Metals Network won by Lewis Salter of Bayliss Metals.
A model of a R9800 Lego Technic donated by Liebherr won by Peter Mills of WN Thomas, guest of BFA Recycling.
A Fortnum & Mason Hamper donated by WARD won by John Edwards at BFA Recycling.
A Model of a Sennebogen 875M Special donated by Molson Group won by George Webb, guest of One Stop Recycling.
A Model of a Sennebogen 875 Gantry donated by Molson Group won by James Hadley of Recycling Lives.
Beer hamper donated by BMRA won by Ram Prajapati, Synergy Tradeco NV, guest of Conquest Shipping Ltd.
Beer hamper donated by BMRA won by Ken Booth of CF Booth.
£250 John Lewis Voucher donated by Environment Media Group / Letsrecycle.com won by Varun Chhabria of One Stop Recycling Ltd.
Thanks to our wonderful sponsors. This event cannot happen on the scale that it does without you.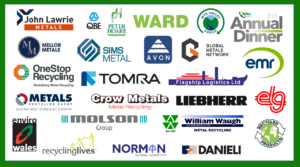 Menus - Norman Global Logistics
White wine on tables - One Stop Recycling
Red wine on tables - Recycling Lives
Drinks Reception - Sparkling Wine - Sims Metal
Drinks Reception – Beer - John Lawrie Metals
Drinks Reception - Soft drinks -Danieli Centro Recycling
Media (AV) Equipment - EMR
Autocue - Mellor Metals
Master of Ceremonies - TOMRA
Safety Officers - Envirowales
Table magician, Jake - Wye Valley Metals
Table magician, Jamie - ELG Haniel
Table magician, Lewis and Oli - Avon Metals
Table place cards - Flagship Logistics
Name Badges - William Waugh
Petit Fours and Photographer - Peter Hoare/QBE
Cheese Boards - Ward Recycling
Photo Competition Prizes - Recycled Products Ltd
Thanks to our exhibitors who help to make the networking event a worthwhile experience for our members:
ADJ Fire and Security
ATF Professional
Blue Group
EH Hassell & Son
JMC Recycling
Lefort UK
Liebherr
Norman Global Logistics
Olympus
Peter Hoare
Look out for details of the next event, the BMRA AGM, Golf Day and Summer Dinner, being held on Monday 4 July at the Dalmahoy Hotel & Country Club, Kirknewton nr Edinburgh.